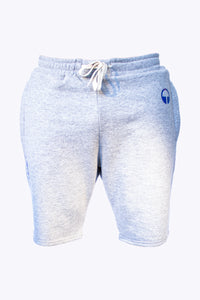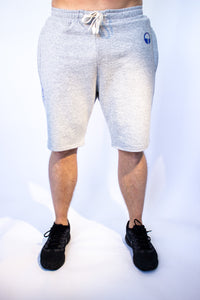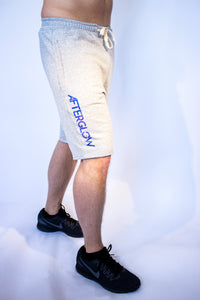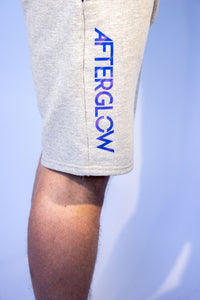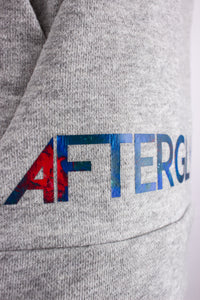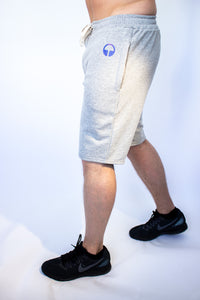 Men's Synapse Shorts - Light Grey
Colours
Step it up a notch with Afterglow's Synapse gym shorts for men. Our shorts are perfect for crushing out your sets in the gym, pushing your limits in a boxing class, or hitting the incline cross-trainer for some cardio. Every component of the Synapse is upcycled, recycled or sustainably made – including our innovative recycled heat pressed logos, a world first.

More info
The Afterglow Synapse sports shorts for men were created for multi-function fitness and complete freedom of movement while you work out, with a relaxed fit in the seat ideal for lunging or running – yet featuring an elasticated rib adjustable waistband, designed to keep the shorts in place, on your hip, for your entire session, no matter how intense.
Made from premium-feel sustainable 'diagonal fleece' sweat absorbent fabric, created from a blend of recycled PET bottles and upcycled cotton, our Synapse runner shorts for men also feature discreet, recessed pocket zips with storm flaps, ideal for stashing your locker key without it falling out while you train.
Planet First
The Afterglow Synapse gym shorts for men feature an innovative world first: a recycled ink heat pressed logo. Sourced from repurposed pre-production ink waste, our eco-friendly transfers feature a one-of-a-kind ink colour blend, unique to every Afterglow garment.
Beyond that, Afterglow has spent months researching suppliers around the world to ensure that all of our trims for our workout clothes for men and women are as eco-friendly as we can possibly make them.
Our Synapse sports shorts for men zip up with sustainably produced YKK Natulon zippers, which are fully recyclable. They also contain thread made from recycled PET bottles, rounded out with other sustainably produced or recycled elements, including the cords, thread and wash care labels.
By purchasing a pair of Afterglow Synapse shorts you will become the proud owner of a pair of the world's first range of fully functional, sustainably-produced running shorts – so join the movement!
 Features 
Slim fit cut, with minimal garment movement
Premium feel, sweat absorbent sustainable 'diagonal fleece' fabric
Premium ribbed waistband with organic cotton drawstring
Discreet pockets, plus recessed zips with storm flaps
World-first recycled ink logo, each with a colour unique to every pair of shorts
Product Specs
Model is 5'8", waist 34", inside leg 30-32", and wears a size M
Fit: Slim fit for a tailored look
Inseam shorts length = 9" / 23cm (Size M)
[To view Afterglow's size guide, please click here]
Colours: Black, Navy, Light Grey Melange

Sizes: Small, Medium, Large, Extra Large
Weight: S - 0.35 kg / M - 0.37 kg / L - 0.4 kg / XL - 0.42 kg
*Eco-Impact 
Your Afterglow Synapse Men's Shorts will help protect the Earth and save the environment* by up to 7.5 PET bottles, 11 kWh of energy, 4.4kg of CO2 and 2,872 litres of water.
Every Afterglow Synapse Shorts: 
The Synapse gym short is made of 'diagonal fleece' fabric, comprised of approximately 52% upcycled yarn (mostly recycled cotton produced from clothing factory cuttings) and 48% recycled polyethylene terephthalate (RPET) bottles.
Afterglow's fleece is also manufactured utilising sustainable factory production methods that reuse almost 100% of the bio friendly chemicals required.
Our fleece is also manufactured utilising sustainable factory production methods that reuse almost 100% of the chemicals required.
The sewing thread is mostly made from recycled PET bottles, as are our YKK Natulon zippers and zipper mechanisms, which are also fully recyclable.
The cream colour cord drawstring is made from organic cotton, with a special type of 'eco-tip', also made from recycled plastic, attached to the cord with an eco-friendly, non-harmful type of glue.
Is 100% comprised of recycled or sustainably-produced trims - All of Afterglow's swing tags, wash care labels, backneck labels, logos, packaging boxes and bags are produced from recycled products or eco-friendly components.
 Is delivered to you using recycled and/or sustainable or reusable packaging
Is transported to you using eco-friendly delivery providers, such as DHL 'GoGreen' carbon offset shipping
[*Based on the weight of a medium sized garment.]